Eddie Bartee, Sr.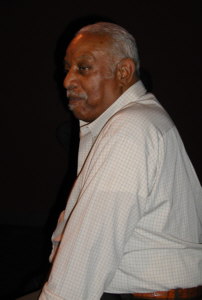 Eddie Bartee, Sr. was the son of a steelworker and grew up in the company town of Sparrows Point. He started work fulltime at The Point in 1955, though he worked several previous summers while in high school. An active participant in the civil rights campaign at the plant, Bartee was a long-time officer of USWA Local 2609, and is involved in the steelworker retiree groups. A popular speaker, Bartee's son, Eddie Bartee, Jr. is an officer of the new consolidated local, Local 9477.
---
Interview, July 7, 2002.
MR. BARRY:
A lot of the great history of the people like yourself from Bethlehem Steel have been lost, because a lot of the time people don't write stuff down in books, so this is really a way of keeping it. Unfortunately, we've timed it at a time where everything is kind of up in the air about what's going to happen with the company and what's going to happen to the people who are there, what's going to happen to the retirees, so here we are.
MR. BARTEE:
Very interesting, that's for sure.
MR. BARRY:
So you can see we've got other tapes and we're going to put them together, and we're going to use it in the public schools and the county and try and educate the kids about unionism, because it's one of my beliefs that the younger workers coming in to the work force today don't understand unionism, and they come in and they think oh, if they stab somebody in the back they will get ahead, or if they study hard they will get ahead, and the idea of sticking together in a union doesn't enter into their thinking.
MR. BARTEE:
Things are so good as far as the struggle is concerned. You know you've got -- I don't know the rate scales now like I used to, but you've got some guys that are making $30, $28, $30 -- $25, $30 an hour. When I started at Sparrows Point, I started out making a dollar an hour.
MR. BARRY:
Tell me what it was like when you started working there.
MR. BARTEE:
Okay. When? It was like I said when we talked earlier it was like probably 7, 8,000 people within my local, probably close to 11,000 -- no, 14,000, 15,000 people working on Sparrows Point at the time, might be more.
MR. BARRY:
When did you start there?
MR. BARTEE:
I started in '55. I worked a summer or two before when I was in high school.
MR. BARRY:
Are you from this area originally?
MR. BARTEE:
Yes, I was raised up in -- I was born in
Baltimore
City
. I was born at John Hopkins, but my parents brought me to Sparrows Point when I was about a year and a half old.
MR. BARRY:
And they lived there?
MR. BARTEE:
And they lived there. We lived there until -- when my father died, he was a steelworker. I stayed at Sparrows Point until 1954, I got married and moved to a place called Turner's Station right across from the water -- well, not too far from where you work.
MR. BARRY:
I know exactly where Turner's Station is. I know Mrs. Feed and all the community at Turner's Station.
MR. BARTEE:
And my wife's grandmother, we lived with her, and then I put an application in and I got a house in Sparrows Point in 1957, and I stayed there until 1974 when they eventually decide to eliminate the residential area of Sparrows Point. That's when I moved. It was a blessing in disguise, because we would probably still have been there now because it was an ideal community in those days, people didn't lock their doors. As a matter of fact, I just came from
Penland , Pennsylvania
. My brother-in-law had his car in the garage, had his car in the garage and a car on the patio and a truck, the keys were in all three vehicles, and Is aid you are crazy. The garage door was up. He's got
beaucoup
tools and stuff, and he says, "Man, we don't have no problem." He said, "This is Penland." He made fun of me. My mother-in-law is in
Baltimore
, lives here also, so he know how -- he graduated from Morgan, and my mind went back to Sparrows Point when we used to leave our doors unlocked, go visit neighbors, leave Sparrows Point, come to
Baltimore
City
. Nobody locked their doors, you know, and nobody bothered your property.
MR. BARRY:
What was it like growing up in Sparrows Point?
MR. BARTEE:
It was an ideal community. It was a friendly, warm country-style neighborhood. My father died when I was 16 years old and we had eight sisters and brother, eight of us all total living, and the people came in and just literally took over my mother's house. They washed, they scrubbed, they cleaned, they cooked, they took up donations in the community. My mother didn't have to do anything. I remember my mother getting sick one time and a couple ladies in the community came in, helped my father iron her clothes and stuff like that. It was an ideal community. You had two churches, the Methodist Church and the Baptist Church . Most of the people attended either/or. You know few people naturally didn't go to church, but everybody knew everybody. When you walked down the street, you spoke how are you, MR. so and so. You knew everybody, and that's the way it was up until the middle 60's. The middle 60's, that's when the civil rights thing, there was protest filed against the company with the EEOC saying that Bethlehem Steel discriminated, and they did, there was no question about it. Out of that came -- well, at that particular time they didn't have any black fireman, any black policeman. All the black people, black community lived on two streets, I and J Street . You had a hand full, and I mean just a hand full of black foreman. They had a few what they called labor leaders, you know. This guy would be like in the labor gang. He would be a labor leader, and he would be in charge of the crew. He reported to his boss, he would do what the boss said, and they would give him a couple of jobs and more than they did the guys that were doing the work. The foreman was probably making 16, 17, something in that ballpark, but those were the things that we were protesting. There was a lot of jobs that blacks weren't allowed to do or the unions that they weren't allowed to promote on. Your mechanical department, your maintenance period, mechanical, electrical, that's your machine shops and all that. It was just a black -- very few, if any. And as a result, by 1968 after going to Washington and bringing the government in, the company and the union got together and we opened up the plan that you promote with your plant seniority instead of unit seniority. They had three kinds of seniority. You had unit, department and plant, and of course company seniority. Company seniority didn't mean that much to us at Sparrows Point, but needless to say they didn't eliminate unit seniority, but they said for now on we're going to promote by unit seniority, which meant that a lot of the blacks that were in those dead-end jobs were able to bid and -- they were money- making units, they were better paying jobs, and once they got in there, they could use the seniority, the plant seniority to promote, and in some cases they promoted ahead of some of the white employees. A hand full of black employees, they opened the door a little bit in 1964, '65 for blacks to come in to better paying jobs, but it wasn't a wholesale thing. They had tests and all that kind of stuff that you had to take. I know we were working with a group of guys, it was in the sewing room --
MR. BARRY:
What did you do in that room?
MR. BARTEE:
Sewing room? I did stocking, hooking, assembling units. I never worked up to a track operator. I never got enough seniority. But in the sewing room, we all -- we started getting laid off. I had worked like six years and never had gotten laid off, and all at once they started downsizing the sewing room, and we got laid out, and this happened to me like two years in a row, three years in a row, and they had the unit that produced the tandem department. They had young white boys working who had less seniority than me with the company, they were working, I was in the street so we started studying, a bunch of us, on our breaks. We had two breaks. Let's say you worked the 3:00 to 11:00, you got a break at five o'clock, and you get another one at eight o'clock. Well, during those breaks we had math books, spelling books and reading books and all that sort of stuff. Most of us had finished high school, but some of us was a little rusty, you know some of it had gotten away from you. I will never forget, I bid on a job and went over to take the test, and man, I'm prepared, you know, nervous. When I walked in, the superintendent -- not the superintendent, but the general foreman of the department, a guy named Koufax, he said, "You want to work over here?" I said, "Yeah." He went on to tell me about "man, you've grease holes, you're down in the cellar and basement and stuff," and my response to him was -- I was clean just like you are now, because the job I had in the sewing room at that particular time was mostly pencil and paperwork, and I used to get clean kakis on, clean shirt and whatnot, and it was a good job, you didn't make no money, but it was a good job, but anyhow, he said, "You can't work like that over here." I said, "Well, have you got anybody else doing it now?" He said, "Yeah." I said, "Well, I'm just as good as anybody you've got in here." So he sat down and he put the test down in front of me, and when he pulled this piece of paper out, it was a piece of paper about I guess six by eight and it had six problems on it, three plus four. I will never forget that as long as I live. It had a subtraction problem where you had to find -- you had to change your whole number, and it had -- which was a very simple problem. It had a simple multiplication table problem on there, and then you had a division problem and you had two fractions. You had to add a fraction and you had to subtract a fraction problem, find the least common denominator. The fraction problem was so simple, I did it in my head. Most of the tests I did in my head, all but the subtraction problem, I had to exchange one whole number to a fraction, and I was scared because when I saw the test, I said it's got to be something more than this, because first I thought they were trying to trick me, because we knew they had situations where tests had been tampered with throughout the company, but when the deal went down, I said, "This is it?" He said, "Yeah." He said, "You did good." Then he went on, he said well, you know over here we work Saturdays, Sundays. They only had one day off a year that the mill don't run, and that's Christmas. I said, "Have you got anybody doing it now?" He said, "Yeah." I had known workers from before. We used to get off Labor Day, 4th of July. The sewing room was a pretty decent place to work. You just didn't make any money, and I went to work, and the guy -- I worked with guys who were white who couldn't read the morning's paper. I had one guy he would help you over and above his duties because it was a team thing, operator, assistant operator, cooler and feeder. The assistant operator and feeder work together, and he would let the feeder write up the report, because you had to record all the information on the report from the cards, the coils, and it had to go up to the front. Somebody has wrote down a size or the weight and the coil number. That was the biggest thing about it. To make a long story short, he didn't have an education. He was an assistant operator, but they were saying to me I had to have a high school diploma or a high school equivalency. I went to work then. That's where I retired from the tandem team, making a decent living. Fortunate for me I never got laid off again. One of the things that helped me, I became vice-president of the union right after I got there, and they had super seniority for laid-off purposes in the contract, so that kept me from getting laid off. It worked out pretty good. I remember when I went in to the room and started, you have a bathroom here and a bathroom here, black, white. We had a bunch of females in our area. They protected those females. No black females, all white females was working in the sewing room when I started. When I became vice-president, I will never forget the assistant superintendent came to me, said, "Ed, we've got to do something." He said this black bathroom -- now, in one situation, it was just the matter of a wall, a wall here and a door on this side and a door on that side. You went into the bathroom or restrooms is actually what they were. There was no difference in the facilities. It wasn't like they had air condition or better soap or anything. They had the same type materials and stuff, which leads me to another situation that we were in. When I was working in the sewing room, it had like eight stools or commodes. We had toilets and you had commodes, and the white bathroom, they must have had 15, 16 commodes, and sometimes you would be working, you would have to go to the bathroom. You stop your job and you run to the bathroom. Well, periodically some of those commodes would be broke, stopped up or whatever, they weren't working and you had to stand there. So at that particular time I saw ________ like this and we went -- I'm going in the white bathroom. So that went on -- I got a bunch of other guys to do the same thing. All of us was somewhat reluctant, but again like I said I thought I was -- I'm bad, thought I was bad anyhow, and one of the guys, I will never forget it, they used to work with my father. At first he thought I was a nice boy, and when he saw me in the white bathroom a couple of times, he said, "What happened, what are you doing in here?" I said, "What difference does it make? A bathroom is a bathroom." Like I said I was smart and snotty, and he said, "What happens if somebody catches you and they jack you up and hang you up to the ceiling?" I said, "You ain't got enough people in here to do that to me." I felt that good about myself, and he said well -- but what I did, I immediately went to the assistant superintendent of the tin mill, and I told him what had happened, and I told him why -- a part of the reason I'm a crane hooker, at that time I was a crane hooker. I've got to keep these tables loaded for these women. Periodically I have to go to the bathroom, and sometimes the bathrooms, the commodes in the black bathroom are broke, and we have to stand and wait, and I said, "Well, I don't have time to wait, I've got to keep my tables loaded," and I told him what happened, this guy had threatened to hang me up. He says, "I know it's hard." The assistant superintendent, a man named Bill Morgan, he says, "I know it's hard, but if they put their hands on you, you don't do nothing, you come to me and let me fight your battle for you." Now wait a minute, hold it. If somebody is trying to hurt me, I'm going to try to hurt them back. I guess I was like 23, 24 years old. And he says I'm telling you, but what they did, they fixed all the commodes the next day. He put a director out and they fixed all the commodes, and they kept them fixed so that that conflict wouldn't develop, but that was like prior to '64 when they first filed discriminating charges. I guess I talked enough. You ask me some questions.
MR. BARRY:
This is exactly what I want to do, and it reminded me -- I meant to get that video for you, that Struggles in Steel by Francis Brown.
MR. BARTEE:
Okay. The one they are showing down in there, my next door neighbor, it's a couple of doors just hired, got hired down there and he was telling me that they showed a movie. He said, "Oh, that's my neighbor, MR. Bartee," because we did several things with Jack Robinson to show where management and the union was working together trying to reduce the man hours per ton, that was the goal in those days. They came out with all kinds of -- the first thing they came out with around 1971, '72 in the contract, was what was called a productivity committee. Bob and I eliminate jobs, which there was some positives there in the sense that they had crew size and things there that were obsolete. They had people doing things that I thought wasn't really necessary. It was -- give you an example. I worked on the housing line, the Electroplate line. If something went wrong with the mill, the operator would make a decision--is that mechanical or electrical, and let's say for the sake of discussion he says "it's electrical." The electrical guy would come and look at it, and he says, "No, it's mechanical." Then the mechanical guy would come. The electrical guy would go on back to the shop. Well, okay, let's say we're going to change our roll. Then you've got to call the electrical guy back to take the power off the line. Then you've got to send and get what they call motor inspectors to take the heads off the motors off the rolls. Then the mechanic takes the roll out, put it back in. Then at that point, the motor specialist had to come back to put the head on. Then the electrical people come back and put the power on. Then you've got to send for oil or greaser to grease the burns because it's a new roll, you pump oil in it. All this is a delay, when actually all it could be done by two or three people, and when they deal with that, you are using like four different job classes of people to get it done. Those were the type of things that the productivity, the green book, the LMP, Labor Management Participation, those were some of the things that management was attempting and trying to negotiate their way through it. If they filed a grievance -- there were some grievances filed in other companies where the company said okay, we don't need this guy anymore and they kicked him out, but the work was there and they assigned the work to other people that was already there, and so grievances had been lost, and what management was trying to do was to negotiate their way through it, and of course the union politics is one thing and reality is another thing. Then out of that came management was sometimes you had coordinators, and the coordinators were basically the people who worked in the mill who had never coordinated work loads. Now they have got a chance to work in the office, don't have to kill themselves, bundles of overtime and stuff like that and it was abused. Like I say, they tried three or four different ways to get it, and they are still doing it, trying to negotiate themselves out of jobs that were redundant, unnecessary jobs.
MR. BARRY:
Let's go back to the time you said your dad worked there?
MR. BARTEE:
Yeah.
MR. BARRY:
When you were a kid, what was your impression of Sparrows Point?
MR. BARTEE:
I thought it was a great place to work for a couple of reasons. I remember during World War II my dad worked in there, and he was working seven days a week, 12 hours a day.
MR. BARRY:
And he would just walk right down from I and J Street ?
MR. BARTEE:
Yeah, he walked right to the mill. If he overslept or something like that, he would get up and go to work, my mother would fix his lunch, and I would take his lunch over to the police booth. You know about Bethlehem Steel owned their own fire department, own police department. They were nice, they would call down the mill. I would give them my father's badge number. They would call down the mill, he would come up, I would give him his lunch. In some cases I might leave it at the booth, depends on how much time I had. It was a good place to work. Again, blacks didn't make a lot of money. I can remember my father coming home and raving about how many tons of steel he had run or pounds of steel, and he was feeding the machine making angles. I didn't know what the job was at that particular time, but once I went to work, I went to work in the same area where he worked at, and there was some of the people saying, "You are Ernest Bartee's son?" "Yes, I'm Ernest's son." This is the job he used to do. Then I started asking some questions about -- it wasn't a piecework thing where they made tons. It was a thing where he was competing against his next door neighbor, and I mean in the real sense. His next door neighbor was a guy named Jack Winn. He lived at 803. We lived at 805, and MR. Jack Winn would always try to outwork daddy. But that was their thing, but it wasn't -- they had a good foreman. My father didn't too much of it, but there were guys who would go hunting, bring the general foreman a rabbit back, go fishing, bring fishes back. If your wife was a good cake maker or a pie maker or something like that, you would take the general foreman a pie and stuff like that. He looked out for them in those days. He would take some of the crew people -- some of the general foreman and some of the superintendents, not all of them, would send guys to their house to cut the grass, clean out the garage, do domestic jobs that had to be done. I can recall -- my daddy really never complained about the discrimination portion of it. I can remember him arguing with neighbors about the union going in, and --
MR. BARRY:
In 1941?
MR. BARTEE:
'41, '42, yeah. I don't remember the year, but I know the year now because of my background as far as the union at Sparrows Point, but I was a little boy, and I remember when the union -- the shipyard was trying to get a union in Sparrows Point shipyard, and my wife had a cousin -- my mother had a cousin, not my wife, living with us, because in those days a lot of guys would come from the south, work with the intention of making enough money to buy a farm, go back home and live, and my wife had a cousin who did that, and he went across the line that they had, and I will never forget. He had a big old hunting knife. He says, "if they mess with me, I'm going to hook them with this here." I can remember that, I was a young boy, didn't really realize what was going on, but I can remember the struggle when they brought the union in.
MR. BARRY:
Where was your father from; Virginia ?
MR. BARTEE:
He was from Farmville , Virginia .
MR. BARRY:
Just moved up here looking for work, settled in Sparrows Point?
MR. BARTEE:
Yeah.
MR. BARRY:
How many of your other brothers and sisters went to work there? Any of them?
MR. BARTEE:
Yeah. My oldest brother -- I'm the oldest. My oldest brother, he worked there and he had a stroke and had a heart attack and died early. My next brother worked there. My next brother, he didn't go to Sparrows Point. He made a career out of the service, and then my other brother, he worked construction work, he never worked in the steel mill at Sparrows Point. Then my baby brother worked for the railroad, who just retired a couple of years ago. None of my sisters ever worked at the steel mill. In those days, they didn't allow black women in the steel mill.
MR. BARRY:
And so when you got out of high school, you just figured that's what you wanted to do?
MR. BARTEE:
No. Really my goal was trucking business. I had a design to own trucks, to go into the trucking business. I had a cousin who went to college who he was studying to be a doctor and I always said, "Man, by the time you get finished school I will have enough trucks on the road, I will make more money than you have," but unfortunately my wife got pregnant and instead having one kid, we kept on multiplying, and those were my trucks, that's what happened.
MR. BARRY:
How many trucks do you have?
MR. BARTEE:
We had six trucks.
MR. BARRY:
Is young Eddie the only one working at the Point?
MR. BARTEE:
My oldest son worked at the Point. Well, he drowned about 10, 15 -- '87 he died. Almost 20 years ago, 15, 16 years ago. He worked there, that's the only two sons I have. My daughter had a ball, she worked there during the summer. She went to college, and she worked there during a couple of summers, but none of the rest of the kids. My baby boy, when they were hiring back a couple of years ago, I said, "Do you want to get a job at the Point?" I was in a position to help him. I don't want to work there, dad. I think they didn't like the idea of working Saturdays and Sundays and shift work.
MR. BARRY:
Well, it's interesting to talk to people about families and questions of whether people would do it again, and we have other people who have said that they were closer to their co-workers than they were to their own families because you were together at Christmastime. You were together on third shift, you were snowed in down there, and in addition to working together that there were a lot of what the guys called steelworker widows, that put Christmas dinner on by themselves because the husband was working down at the mill.
MR. BARTEE:
I guess lucky for me like I said by me being in the tin mill, I never missed a Christmas from being with my family at Christmas. I think I had worked one New Year's Eve the whole time I was down there where I was in the mill when the new year came in, because of the tin mill -- they shut down because eventually I had mentioned earlier that you couldn't -- the only day they shut the mill down was Christmas. Then as time went on, orders came from the north, they start shutting the mills down more often, and so that made it a little bit better. Of course I went to work at the union hall. They gave me a little latitude to sort of make my own schedule to a degree, and it made it much easier for me.
MR. BARRY:
What got you involved in the union?
MR. BARTEE:
My uncle was the zone committeeman before I went into the mill.
MR. BARRY:
And what was his name?
MR. BARTEE:
Vernon Bartee. In the tin mill, sewing room. In the tin mill, he was the zone committeeman. He would say come on to the union meeting. Okay, he had helped me got the job. He was the reason I got the job, where I was. In those days you go to the general foreman I've got a son, cousin, et cetera, and give him your name, they call you and tell you to go to the employment office, you've got the job. So he said come to the union meeting. I will never forget, I went to the union meeting, and at the time I went to the union meeting, the Democratic 22 Convention was going on on TV, and they were raising hell, screaming MR. Chairman and all that sort of stuff. Well, the union meeting room reminded me of that. When I went to the union meeting, they were hollering and screaming and calling each other liars and all that kind of stuff, you know. Well, hey, I like action, you know, and I started going to union meetings.
MR. BARRY:
This was at 2609?
MR. BARTEE:
Yes.
MR. BARRY:
Which is at the building on Dundalk Avenue where it is now?
MR. BARTEE:
Right.
MR. BARRY:
What year was this?
MR. BARTEE:
'55, '56. Like I said, I started going to union meetings. I got active, and I joined a group called the "stagemen." That was a group that was attempting to eliminate discrimination. I started going to union meetings -- my uncle was well liked, he was one of the boys.
MR. BARRY:
Who was the president of the local then?
MR. BARTEE:
A guy names Chris Lucas. At that particular time when I first started, Chris Lucas ticket was for real, and as a result I liked him, and I started listening and learning and I started going to shop steward classes. I had never been a shop steward, elected shop steward, put it that way. I would go and I would tell the guys, "Hey, man, they are messing over you," and I would tell them why and make them put pressure on the shops to get things done, and we had an election, and I ran for delegate to the convention, and I took my car and I was hauling people from Sparrows Point and Turner's Station to the union hall and rode all day long.
MR. BARRY:
You were living in Turner's Station?
MR. BARTEE:
I was living in Sparrows Point. All day long, because I knew in order to work at the Point you had to live -- in order to live on the Point, you had to work at the Point. And I knew a lot of people at Turner's Station and Sparrows Point, I was raised up, and I was like man, I need your vote. Well, my ticket lost because they had the green ticket and the blue ticket. My ticket lost, but I was the highest vote getter on my ticket, and when they got ready for election of officers, one group came to me and said, "Hey man, they want to make you vice-president." You are crazy, because I really hadn't had any union experience other than just going to the union hall. I had done some appointments, I worked as a teller, worked as a secretary of the education committee. They had a couple of Christmas parties, things like that, I worked on those things, but I really hadn't had any deep exposure to negotiating and grievance solving. I mean you've got to be kidding. He said no, everybody spoke very highly of you, and in those days I kept myself clean, always did, looked well when I went out and dressed as far as I was concerned, and they gave me compliments. At that particular time, the union had decided that we wanted to have two blacks in the top five, that's what really brought it on. They brought a group that was in the office and said look, we need to do something, and they had a black treasurer and they wanted me for vice-president of black. Well, we got together with the other group, and there was a blue ticket and a green ticket, and we told them what happened, and a couple of times they had ran on the green ticket they had a black vice-president, white president. On the blue ticket, they had -- they didn't have any blacks or they might have had just one black in the treasurer's position, and the guy from the green ticket would win with the blue ticket. In other words, you have a democratic president with a Republican vice-president, because they would split the ticket. So we got together -- have you ever heard the name of Lee Douglas?
MR. BARRY:
Yes.
MR. BARTEE:
Okay, that's an interesting guy you should talk to.
MR. BARRY:
I would like to.
MR. BARTEE:
He would be more than glad to work with you.
MR. BARRY:
I will get his number before I leave.
MR. BARTEE:
I've got it here some place. I got with Lee Douglas. He was a party of the other group. I said they are offering me vice-president, and I said you know what they did to a guy named John Haus, they cut John Haus, but I said if you've got a black vice-president on your ticket and we've got a black vice-president on our ticket, that makes it even playing ground. We've got two blacks in the top five. And so it worked, I beat Douglas Haus. Douglas ran. Douglas was a much smarter man than I am or I was. He knew more about the contract, he had a couple years of college education, but he worked in the -- he was advocate of civil justice. He would take the union floor and talk about how they were discriminating when it was very, very unpopular. So as a result once I got in, I applied myself, and they ran -- I ran against white guys. Every election that we had I won two to one, three to one. Even a couple situations we stole the guy away from the thing with the black and white, black and white. They kept trying to maintain that. Once or twice, couple of times there they didn't have a black in the position, I still walked away with it. The thing that helped me the most was during the 70's and the 80's, unemployment was extremely high and the system with the state wasn't a good system, and people were six, seven, eight, ten checks behind, weren't getting the checks on time, and they gave me an assignment to work with unemployment, help get the checks, and I became a household word, and it lasted for -- oh, my goodness. I will tell you what, I was in office for 32 years, never lost an election, either president or vice-president. I lost within the party I ran for president, I lost that, but then they picked me up for vice-president, but as far as the general election is concerned I never lost one. But the thing that helped me a whole lot -- I meet people today, and you talk to a couple of guys, guys that I don't know, say man, I remember you, you helped me, and I don't remember who they were, because in those days I would have 75, 100 tracers going downtown just about every day, finding out why hasn't this guy gotten his check, what can we do to help him, and what we did we took care of that, bring cards back, call him up or I stop by his house and say look, fill this card out, turn them in tomorrow, and you'll have a check within three or four days. I did a lot of that. Then I got to the point where if he was denied benefits, I was what they called the Philadelphia lawyer. I conducted hearings before the hearing officer, and then from there I went to the Board of Review. I conducted hearings on both levels. I won quite a few cases, because at that particular time I knew more about the contract than the company guy that they had, and some of the stuff that they were trying to do was just wrong and I knew it was wrong. We would show the state where it was wrong, and it worked for me, and then I conducted some Social Security disability hearings, I won a few of them, too. I lost a few, but I won a few, too. So as a result, that helped me develop a name for myself throughout the union.
MR. BARRY:
There was a couple of things that happened -- your dad must have gone through the strike in 1946, and obviously you went through the strike in 1959. Tell me -- do you remember the strike after the second World War?
MR. BARTEE:
No, I don't.
MR. BARRY:
How about then tell us about the '59 strike, because that was the last --
MR. BARTEE:
That was the last big strike. The '59 strike, I was chairman of the education committee, chairman or secretary, I forgot now, but what they did all your committees like the standing committees, all those people were given responsibilities to do certain things, work in the -- see, I worked in the store. Other guys worked in the kitchen, you know fixing food, but I worked in the store. At that store they gave out food to help the people. Other guys worked on the rent thing, other guys that worked on utilities, gas, electric bills and stuff like that, but mine was the store. It was a fun thing. We were able to save a few hundred dollars. I think it was 14 or $1,500 when we went out on strike, which was a lot of money in those days. The food they gave us when I was working in the store, we got a little extra because nobody got paid. The strike -- it was fun, because you worked every other day. Some weeks I had to work every day, because I had to load and unload the trucks, but we had29 a lot of fun. The fun came in when you was unloading the trucks and fixing boxes and stuff, we were selling cardboard and buying beer. A couple of the guys, one of the guys had a truck, that was their assignment. You take all the cardboard boxes, and they come back with 10, 12 cases of beer, and then some of the places like Mickey's, I know you've heard of Mickey's, and Amoco, and various bars where steelworkers hung out, they were donating beer for the steelworkers. Because they got kind of shaky there, I think must have been around -- gee, oh, boy, tenth week, somewhere in that ballpark, maybe a little bit later. This guy came down -- one of the zone committeeman, a guy named Jack O'Ryan, he lived in Highlandtown, and he knew this loan company, financing, I will never forget it because I never made a loan. I didn't know anything about interest at that particular time, and he said just go up there and tell them I sent him. So my wife and I said well, let's go get this loan. So we went to get a $300 loan, and all we did was put it in the bank because at that particular time we were still living off the $1,400, and I will never forget this as long as I live, the first payment, my payment was $21. They put $14 in interest and $7 on the principle. Man, I had a fit, but my hands were tied because the first payment I was still on strike, and right after they settled, we went back to work. We had the cooling period, and we went back to work. And as we got back to work and when everything was settled, I filed my taxes and I just went on and paid the loan off. I kept the $300 in the bank, but it was interesting to be out there without a job, and I had three kids at that particular time, and I will never forget it, I had a car, making a car payment, and I went to the people at Commercial Credit, and they said well -- they looked at my record and they said well, because your record -- my payments were going, all I had to do was pay the interest for a few months, and the interest was $14, because I had gotten the payments down, they were that low. And we had a lot of fun playing checkers, playing pinochle in the neighborhood. Again, we all still were living in Sparrows Point. They had about three places where it was a checker game, pinochle game, or go to the pool room, but there was always card games around, so it worked out good, and some of the people were less fortunate. I remember we used to have a guy come by who worked for the contractors, and the contractors weren't working, and I would give him a couple cans of food to help him out, but that's what the neighborhood was all about. If you were hungry down at Sparrows Point, your neighbors fed you, there was no problem.
MR. BARRY:
Did the guys understand what the issues were in the strike?
MR. BARTEE:
In those particular days, they were fighting for -- the company didn't want to give a decent raise, number one. Number two, insurance was the big thing. That was a big accomplishment out of that. They were able to get the company to pay for their insurance, healthcare benefit, because they used to have -- I will never forget it, the first pay they would take out the union dues. The third pay they would take out your insurance, your healthcare insurance. It wasn't a whole lot of money, but as time went on, it grew to be a big thing. There was a lot of unanimity. I think people in those days appreciate the accomplishments of the union more so than they do now. You know you walk in the mill now, you've got a holiday pay, you've got vacations, you've got your insurance paid for. One time we were getting 13 weeks vacation if you were a senior employee, every five years, one cycle, five-year cycle. The insurance and stuff that they have now, the improvements in the insurance benefits. We had at one point, the insurance -- and it still is among the top in the industry, in any industry that the healthcare insurance that we have. It might have some problems, but it's still a good plan.
MR. BARRY:
What do you think can be done to teach the younger generation of workers about the accomplishments of the union?
MR. BARTEE:
Just what we are doing now, talk, talk, talk about the conditions, the way they were and the way they are now. When I started working there for example -- and I want to get it right. I think the shift premium was three cent on 3:00 to 11:00 and seven cents on 11:00 to 7:00, and I think it's up to what; ten and fifteen now. I'm not sure, I forgot.
MR. BARRY:
Percent?
MR. BARTEE:
Yeah.
MR. BARRY:
Big amount of money.
MR. BARTEE:
It was increased. I think once you just sit and talk to people about how the struggle was and what you went through, and let them know that ______, and one of the other things is I think we do a lot of teaching the people how not to work, and let me explain what I mean by that. There are a lot of jobs where you've got an assignment, you've got to get so much accomplished, and when people come in the mill a lot of times they take and teach those people how to do the job, get it done right away, and you are free the rest of the day, and as a result when new employees come in, they get exposed to not working instead of working. I think that doesn't help them much. I'm not saying you've got to work your off for eight hours a day, but I think I always believe a fair day's work for a fair day's pay, and they need to talk about the conditions. There were certain situations that were unsafe. For example, like when I first started in the electrical department, we had little box cars with soda ash, and we had to load those with hand. You pile them up on the skid, and they would take them with a tractor from the box car, carry them to the soda ash room, and we would stack them up, and that stuff would get on you, you would sneeze all day long. You worked a lot harder than they work today, a whole lot harder. Towards the end, soda ash started coming out on skids, so all you do was stack the skids on top of each other. We used to have what's called pigs, it's actually pure tin. Those things weighed anywhere from eight to 90 pounds. We had pick them up, put them on the skid, take them to the room and then stack them again. Now they come in, come in on box cars, always banded up and everything, and it's just a matter of the tractor going and picking it up. There were a lot of jobs like that where it was hard work, a lot of sweeping and stuff. You had long areas to sweep, but they had a lot of sweepers in to take the place of that, so there was a lot of stuff, like the banning of coils. Used to be a time where everything was manual. Now they've got machines that do two-thirds of that stuff. You worked a lot harder in the old days, and the only thing you can do is say tell the young people how over a period of time some of the improvements came as a result of the employees making recommendations to management, and some of the management brought in new ideas themselves, you know. I remember when we would work eight hours and probably bend three or four coils, because in those days most of the stuff was going out there cut, but we band up three or four coils, and that would be you had a hoist with a chain on it, you had to pull it. You couldn't do no better, but as a result now they do what, 7 to 800 coils a day band, but those are the things that a lot of the people in the mill have forgotten about, because let's face it, you are talking 30 years ago, 35 years ago those conditions at work exist.
MR. BARRY:
What do you think the future looks like?
MR. BARTEE:
I think they have got to do something about the legacy card. If they get some help from the Government to do with a legacy card, probably develop a new type of pension program, maybe a 401K and do something with the redundant jobs and do something with the foreign imports. Now, they have got a tariff of 30 percent for the next three or four years. If they can get that -- get some type of limit on imports, foreign exports, they can turn it around, they can do good. I think what's going on over there now, if Bethlehem Steel would have diversified in a more positive manner -- they tried some things, but they never really, really got the thing off the ground like they were supposed to. They had a supply of ten -- they had warehouses in a couple places in the country, they didn't stick with that. U.S. Steel is financially solvent, they diversified. What they did different from Bethlehem , I don't know. They had a lot more things going for them than Bethlehem did. And to be honest with you, when Bethlehem made money, everybody got some goodies, so I think that was one of the things.
MR. BARRY:
Where do you find out about the current situation of Bethlehem Steel?
MR. BARTEE:
By being on the Board of Directors for the credit union. Most of the guys still work, like Chuck Stringer for example, and Jerry Ernest. I can't think -- I've got a couple other guys name. But anyhow, we talk about it, and then when we go to -- find a secretary for the retirees club in 2609 and we have the officers come in periodically and give us a report as to what's going on in the mill, and then when I bump into Eddie, my son, I ask him questions, and just more or less hearsay, whatever you pick up in the paper and that's where I get most of my information from.
MR. BARRY:
How about the guys that are retired, do they hang out with you, are they concerned about the future?
MR. BARTEE:
Oh, yeah, I guess just about every day. I get a phone call maybe two or three times a week, "Hey, man, what's going on, what's going to happen with our insurance, what's going to happen with our pension," and I try to stay on top of it to help the guys, because when I first came off I was still doing problem solving, people calling me. A lady called me the other day, wanted to rent the union hall. Well, you helped me ten years ago. Well, sweetheart, I'm not there anymore, call Ed, Jr. Oh, your son, okay, and that works out. But like I said, my wife was telling me yesterday when I went to an anniversary party during the day, one of the steelworkers, a guy 92 years old. She said a guy called and wanted to know about insurance. She said he's going to call me back. Well, he hasn't called back. So those things I know I will tell you. Those I don't know, I don't give out bad information.
MR. BARRY:
How do you feel about your son working there?
MR. BARTEE:
I'm proud of him. I fought with him to go to college, he didn't want to go to college. Keep in mind 30 years ago a guy could go in the steel mill and make more than a professor at the university in Morgan. I had a brother-in-law that attended Morgan. I was making more money as a feeder on the tandem line than he was a professor. Made more money than school teachers. I can recall going to a PTA meeting. My wife used to always go to PTA meetings, and this teacher came to me -- at that particular time, I was fresh in the union, and she knew about it and she said my brother-in-law said he made so much money by working Thanksgiving Day, and I said yeah, he was right, and I remember in those days you could make -- if you worked double time on a holiday, you could make yourself $250, $300, somewhere in that ballpark, and that's what he had made. She couldn't understand that, because she was working as a school teacher, probably making $50 a day, and this is back in the 70's or 80's, late 70's, early 80's. She said, "Why?" She thought he was lying, because he came home, they had Thanksgiving dinner at his house, and he was saying how much money he had made that day. I said, "Yeah." She said, "Oh, my goodness, I'm in the wrong business, I shouldn't be teaching. Maybe I should work in the steel mill." So that was a challenge. Eddie had a couple buddies who had gone to work at the steel mills before him, and they were talking man, look at the money you can make. Things were much better for him than they were for me. I guess when Eddie started working in the steel mill, laborers were probably making $6, $7 an hour, which was pretty good money, so he was happy. He did pretty good for himself. I never had a problem with him not going to work, missing a whole lot of time or going to work being two-cent slick or something like that. He's a typical young man who did everything he could to get out of work, I won't argue that with you, but needless to say now he's chosen it, and he caught on, he is doing much better than I thought he would have done as early as he did, let's put it that way. I'm proud of him.
MR. BARRY:
Did you tell him that?
MR. BARTEE:
I think once in awhile, yeah.
MR. BARRY:
Don't want him to get too swelled up.
MR. BARTEE:
He would swell.
MR. BARRY:
Well, if you had to do it again, would you do it again?
MR. BARTEE:
Yeah, I wouldn't have no problem. I've been blessed. All my kids completed high school. Those that wanted to go to college -- three of them went to college. I own my home, got a couple dollars in the bank. My wife and I do traveling. I completed high school, and compared on average to the average guy in my category, guys I worked with, I'm comfortable. I feel blessed.
MR. BARRY:
You feel some satisfaction, too, for what you have done for other people?
MR. BARTEE:
I feel good about it, and I guess the interesting part about that I never realized how much I was appreciated until after I retired, and I started roaming around and people were speaking at the lake. Beaucoup of steelworkers that go around the lake how are you, Bartee, and I would speak and get an opportunity to talk to them, well, where do you know me from. I will be looking down. Well, you did this for me. I had people in 2610 who would come over to me and get me to help them with their unemployment problems. I feel I was able to help some people, and one of the greatest thrills I've had -- I mentioned to you earlier I came from a small neighborhood. My father got sick a lot, he had pneumonia, he had an eye operation and stuff like that, and whenever he got sick, people would take offerings, I mean collections -- offerings are in church, take up collections or either they would buy us a ton of coal or a guy would deliver a ton of coal and stuff like that, we got a lot of help, and up until about three or four years ago, every time somebody asked for something, I would give it to them because I would see people on the street, I give them a dollar, 50 cents, whatever change I had, because I was blessed that people helped us, and as a result one of the best things -- I went to work one Monday morning and they said Ed, help him. Well, do what you can to help him, and the guy had come down here from
Philadelphia
on a weekend spree with a group of -- a couple of buddies of his, and they said they were -- his buddy had relatives living here and they said they were hiring at Sparrows Point, and he went down to Sparrows Point. They didn't go back to
Philadelphia
. He went down to Sparrows and he got a job. He didn't know a living soul in
Baltimore
. He was able to bunk with some of his buddies' people for a little while. Then he had to bring his wife and kids here, and that was in the early stage. He got sick and didn't have any money, and he couldn't get a check from Bethlehem Steel, because he had a form that had to be filled out, and he didn't have enough money to pay the doctor to fill the form out. It was called a pink slip, and I said okay, we went to the doctor,
University
Hospital
. We got the doctor to fill the form out. I called the company. The company said, "Ed, if you pay the form here, we will write him a check." I stopped by -- used to have laundry workers had a place up on
Rowan Avenue
. So for some reason I stopped by there. I don't know why I stopped by there, but anyhow I was telling what I was doing. The lady, her name was Betty Brown, she said well, we can help him. She got him two big bags of groceries. I gave him money to buy cigarettes with, and I gave him money to put in his pocket, like five dollars, something, it wasn't a whole lot of money. Cigarettes were much cheaper in those days. Got him a couple packs of cigarette, put some money in his pocket, change for him to go to work. His check was ready the next day. That was Tuesday, I picked his check up and I carried it to him, and that was the best feeling that I had as far as really, really helping, and he had money to get his medicine, he got his pink slip and got things going on. The guy came to me I guess about two years later, and I forgot all about it. I didn't forget the situation, but I had forgotten who he was, what he looked like. He told me who he was. He wanted to buy me a sandwich. I said, "No, man." He said, "I've got to give you something." What he did -- I was smoking then. He came by, I was smoking Viceroy cigarettes. He came back with five packs of Viceroy and threw them on my desk. You helped me, you take them, you know. And I had a couple other situations. I will never forget I was at Mickey's one day, I was running late, and I very seldom eat at Mickey's, very seldom I eat fast food. On this particular day I stopped at Mickey's and ate a sandwich, and I got ready -- sandwich, bowl of soup. I ate the soup, I ate the sandwich, I'm going down the road to get to a meeting. This guy ran up to me. I had my hand in my pocket. Don't take his money, and he threw a ten-dollar bill up. I said man. He said, "Man, you got my check for me. I had called that place and called that place. They kept giving me the run around. I called you and in less than three day's time my check was there." He said, "I want to do something for you." I had those kind of experiences.
MR. BARRY:
That was great. Let me just get some timeframe. What year did you -- you started working at the mill in '53?
MR. BARTEE:
'55. Well, I worked there '53.
MR. BARRY:
Couple of years in high school. '55 you started working in the mill. When did you move to Turner's Station?
MR. BARTEE:
I was living in Turner's Station at the time I started. I moved to Turner's Station in '54.
MR. BARRY:
Were you married then?
MR. BARTEE:
Yeah, that's when I moved, I got married. My wife -- we was living with my wife's grandmother.
MR. BARRY:
When did you move into the city?
MR. BARTEE:
Well, I left Turner's Station and went to Sparrows Point.
MR. BARRY:
Went back?
MR. BARTEE:
To sparrows Point in 1957, and I stayed in Sparrows Point from '57 to '74, and I moved in the city, because like I said earlier
Bethlehem
eliminated the residential section.
MR. BARRY:
And what year did you retire?
MR. BARTEE:
Ninety-six.
MR. BARRY:
So you were there 41 years?
MR. BARTEE:
Forty-one years plus, yeah.
MR. BARRY:
Amazing. Well, it has been a great story. I really appreciate your time. Any other stories that you want to tell?
MR. BARTEE:
I can't think of any. I've had a lot of fun.
MR. BARRY:
All right.
MR. BARTEE:
We took up a collection and agreed that they would send two people from 2609 and two people from 2610 to take some money to
Johnstown
, the flood area to give some relief. When we got there, the guys were over at this like a Moose Hall, and one of the guys carried us over there, and when we went in there, there was a long hallway. Like we came to the door there, and down the hall was the entrance to the bar and the restaurant portion of it, and when we got there, you had to ring the bell to get there. So when we got there, the guy opened the door and said, "Hold it, stay right here." I will never forget that. In the meanwhile, they went in there and they got the guys that we wanted to see. He said, "Okay, come on. Let's go." The guys said, "Where are we going?" He said, "We will get you something to eat." There was two blacks and two whites from
Baltimore
that had gone up to deliver the check, myself being one of them, and we learned this later on that no black man had ever been beyond them doors. There was discrimination, and I felt bad about it in a way and I felt good. I said well -- because they wanted to carry us on a tour to see how the water had washed trailers all up on the banks and stuff, it really put a hurt on them. That was an interesting experience.
MR. BARRY:
One other question since -- thinking about that video. Did you get involved in other civil rights movements around the
Baltimore
area, or were you pretty much just at the plant?
MR. BARTEE:
I did pretty much the plant. Now, I supported -- when they were doing the thing about integration in restaurants and stuff like that, I did a few demonstrations, but I was hot-headed and they were preaching nonviolence, and they had a couple situations where people would spit on people going into the five and dime downtown where they were trying to integrate, and I made the statement, "Man, if that would have been me, I would have knocked his head off." I didn't go. That was part of the reason I didn't go, because I was sort of what you call -- but as far as the steel, I worked real hard on the steel mill thing, because what happened I was a black officer in the local union when they first started that, and when
Pittsburgh
sent their people in to see what was going on, they were directed to black leaders, and we had several meetings and stuff and explained the conditions to them as to what was going on.
MR. BARRY:
Did you know Francis Brown?
MR. BARTEE:
I met Francis Brown during that time. I didn't know him before we started the struggle. This guy Lee Douglas, you've got to meet Lee
Douglas
. Lee was -- they had a group of four friends, the Brown group, called the Statesman. That was the group that I belonged to at first, and then we went from the Statesman to Steelworkers for Equality. Then Francis and them, they went out and they got CORE, Congress for Racial Equality, something like that, and those boys, so they started -- our group was dealing with the NAACP. Francis' group was dealing with CORE, and as a result they wound up putting their efforts together, and we were able to get some gainful -- some positive.
MR. BARRY:
All right, great.