RETIREE'S PHOTS SHOW OFF NATURE AT BETH STEEL

Work is featured in Dundalk Renaissance Corp. exhibit

by Joseph M. Giordano

For most local residents, the aging ISG plant is no pretty picture.

But for one retiree, the rusting railroad tracks and rotting docks are home to flora and fauna so beautiful that the Dundalk Renaissance Corp. is showing his work as part of Bethlehem Steel: Gone But Not Forgotten, a photo series running throughout the summer.

Bud Lippert, 57, started noticing the colorful flora around the plant about 10 years ago and has been shooting ever since.

"I started out taking pictures of the ranges at my archery club in Gunpowder [State Park]," Lippert said. "Then I shot birds at the feeder at my home."
Lippert, a retired fuel tech who lives in Middle River, was not permitted to carry a camera around while on the now-defunct Bethlehem Steel's property.

"I had so much equipment that I was able to take a camera with me and no one noticed," Lippert said.

The result was not industrial espionage - which may have been why the policy was initiated - but an as-yet-unseen look at the wildlife around the hulking steel towers and blackened landscape.

"I thought that many people had taken pictures of [Beth Steel]," Lippert said. "But no one had seen it like this."

Lippert's 23 photographs show Beth Steel at its best, with Canada geese and their young strutting in front of massive mills, purple loosestrife bursting through abandoned railroad tracks and yellow primroses peaking though coarse soil.

"It got to a point when I had to buy an Audubon book," Lippert said. "That way I could identify all the [flora]."

With all the animals - like osprey, geese and even a roach - one of Lippert's photos really stands out.
"I hit that at just the right moment," Lippert said about his dazzling shot of the Francis Scott Key Memorial Bridge. "I caught the sun at just the right moment going through the bridge."

Lippert's show at the DRC was possible thanks to an idea from Bill Barry, director of labor studies at CCBC Dundalk.

In an effort to call attention to the steelworkers' history project - an extensive undertaking co-sponsored by the nonprofit Project Millenium through which oral histories are gathered, archive photographs from the Dundalk-Patapsco Neck Historical Society and the Baltimore Sun are collected and panel discussions are presented at the DRC and CCBC Dundalk - Barry collected Lippert's shots into one of the three photo shows at the DRC of the former Beth Steel plant and its employees.

"We have some pretty good photographs from all over," Barry said. "[Lippert's], the Baltimore Sun [collection] and the upcoming show by Jay Mallin."

Mallin, a Washington, D.C.-based photographer, will present Beth Steel images taken for America at Work magazine, according to Barry.

But about Lippert, Barry was amazed to see the work of the amateur nature photographer and former Beth Steel employee.

The two met at the plant's Career Development Center last year.
"Buddy and I were talking," Barry said, "and he said 'I've got these photos of birds, flowers and plants from over the years that nobody wants.' I thought it would be a great addition to the project."

Barry was also surprised at Lippert's photos because of the way they were taken.

"You have to remember," Barry said, "that it was strictly forbidden to have any kind of camera on [Beth Steel] property. I was impressed."

After the two met up again last year, Lippert was ready to show Barry his work. He acknowledged the guidance Barry provided.

"[Barry] went through a lot of my work," Lippert said. "Some of the shots, although they're good, didn't quite reflect the plant. Bill said they could have been taken anywhere."

Besides taking pictures of the plant, Lippert is an expert biker who used to pedal the 13 miles to work.

"I got into biking about 1990," Lippert said. "Since then I've biked from Myrtle Beach [S.C.] to Maryland as well as biking to work every day until 2000."
As for nature, Lippert hopes to collect his Beth Steel photos into a book and will keep taking the type of shots he loves.

"I just shot my neighbor's garden," Lippert said. "When she saw the pictures she told me they looked like shots of a park, not of her back garden. That's why I take pictures."

Lippert's work is on display with selected shots from The Sun until the end of the month.


Bethlehem Steel: Gone But Not Forgotten

Through May: Photos by nature photographer Bud Lippert and from the BaltimoreSun.

Where: Dundalk Renaissance Corp., 81 Shipping Place.

When: Weekdays 10 a.m. to 5 p.m. (closed Wednesdays)

Next exhibit in series: Women of Steel (photos by Eagle reporter Marge Neal) opens June 20.

Info: 410-282-0261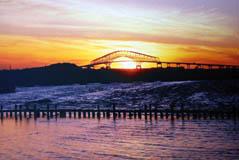 This shot of the Key Bridge at sunset by Bud Lippert is on display at the DRC through May.