BLACK STEELWORKERS RECALL DAYS OF SEGREGATION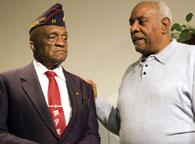 Retired Sparrows Point steelworkers Lee Douglas Jr. (left) and Eddie Bartee Jr. spoke at CCBC Dundalk last Thursday in honor of Black History Month photo by Joseph M. Giordano
Before important rulings, unequal treatment routine

by Joseph M. Giordano

It was hard, I'll tell you that."

That was Eddie Bartee Sr., a former Sparrows Point resident and retired steelworker, talking about being black and working at Bethlehem Steel during the American civil rights movement.

And it was the understatement of the evening.

In honor of Black History Month, Community College of Baltimore County labor studies professor Bill Barry hosted his annual talk with retired black steelworkers last Thursday night at the Dundalk Campus's student lounge.
Bartee, the first black president of the former United Steelworkers of America Local 2610 on Dundalk Avenue, was joined by fellow retiree and steelworker civil rights activist Lee Douglas Jr., in speaking before the 45-minute film Struggles in Steel, about the black American experience in the industry.

Douglas preferred to speak more about his time in the U.S. Marines than in the mill, but Bartee talked at length about his Sparrows Point experience.

"I started working at Bethlehem Steel's Sparrows Point plant in 1955," Bartee told a crowd of 30 labor studies students. "The black workers had it rough. We would train the white workers and they would get the promotions and such."

Bartee described circumstances that were common in mid-century America.

"Yes, the mill was segregated," Bartee said. "They expected us to know our place, so to speak. There was no violence at the mill [between black and white workers], but the conditions were tough."

Black workers were always denied the higher positions, according to Bartee, and were further humiliated by being made to take tests.

"I had a high school diploma," Bartee said during his talk. "But when I wanted a higher job in the tin mill, the foreman said I would have to take this test."
After studying for several days and night, Bartee was finally given the test, which consisted of basic math problems like fractions and division.

"It was easy," Bartee said. "I could do those in my head."

Eventually Bartee got the position, but who did he replace?

"A man who could not read a newspaper," Bartee said. "And I had to take a math test. That's just the way things were."

The steel mills were ordered to integrate in 1962, according to the film, because the federal government would no longer honor contracts from mills that segregated workers.

"It was difficult at first for everyone," Bartee said to the students. "There are people you just don't like, and they were all made to do everything together. I knew guys that would go home to shower instead of sharing a shower with a black steelworker."

In 1970 Bartee was elected as the first black president of Local 2609.
"When we first went to the unions for help, there was none," he said. "But that eventually changed for the better. They began to help us out and became our ally."

The second shock wave to hit the American steel mills was a 1974 Congressional consent decree that forced mills to pay African-American workers for years of discrimination.

"Ha," Bartee said. "We called it 'black money' instead of back money, like they called it."

Though the decree opened many doors to opportunity for black steelworkers, what they received as compensation was not quite what the roughly 10,000 black workers at Sparrows Point were expecting.

Bartee and steelworkers in the film discussed how much black workers were paid and how they reacted when they got their checks.

"Most of my friends sent it back," Bartee said. "They got checks for $300. Three hundred dollars for years and years of discrimination. We didn't want it."

The documentary was made in 1998 by Pittsburgh filmmaker Tony Buba and has been showing at CCBC for each of the past seven years, according to Barry.
"It's an important film," Barry said Friday. "Not only as a history lesson but as a lesson to everyone who grew up around here."

During Black History Month, Barry, who has been teaching labor studies at the college since 1998, tries to focus his students' attention on not-so-famous African Americans.

"I like to tell the students growing up here that you have working-class heroes right here," Barry said. "They don't have to be rich or famous to be role models. They can be people like Eddie Bartee and Lee Douglas."

A few of Barry's students were awed by the film and agreed with their teacher about the importance of watching it.

"It was extremely interesting," said former GM worker and Inverness resident Tom Hackett, who is white. "I never experienced that type of racism in [New Jersey], where I'm originally from. But to see what those men and women went through was tough."

Hackett saw parallels between what the mills went through and the current state of the auto industry.

"The other shoe is about to fall," Hackett said. "All those jobs will be lost all over again."
Bartee echoed Hackett's concern with a double sadness.

"It's a shame to see all that we fought for our children not mean a thing if all the jobs are gone," Bartee said. "This generation will never know what we did for them and their future as workers."